4 October 2019:  The fat lady is about to sing on winter and this is our final weekend of the snow season here at beautiful Mt Stirling.
Winter operations cease on Sunday 6 October when the resort entry gate at Mirimbah will open enabling free access.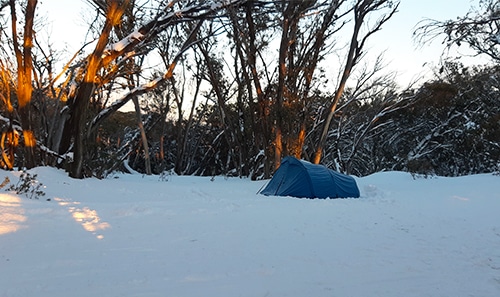 Thank you to everyone who has shared time with us:
sliding on the toboggan slope,
exploring the trails on snowshoes,
marvelling at the quiet majesty of our tall mountain ash forest,
working up a sweat on the cross country trail and listening the swoosh of your nordic skis along the track,
catching a glimpse of a lyrebird,
gazing into the crackling fire at Stirling Cafe,
sipping (another) hot chocolate,
trying a ski lesson,
seeing snow falling,
learning about the Taungurung people,
building a snowman,
feeling the quiet,
Hiking up to Stanley Bowl and carving a nice line down,
Sitting up on the summit and looking over to the lights at Mt Buller,
giving our Ski Patrollers a wave,
snuggling deep into a sleeping bag on the Cricket Pitch,
taking photos as the sun comes up,
listening to the currawongs,
earning your turns,
getting fresh tracks on the Circuit Road grooming,
eating a delicious homemade sausage roll and deciding to have another,
thinking "we should do this again in summer"
Please note the Circuit Road beyond Telephone Box Junction (TBJ) will still be closed to vehicle access until Thursday 31 October 2019.  The Stirling Cafe will close on Sunday 6 October and reopen for weekends and public holidays from December through to Easter.  Corn Hill Road from Mt Buller over to Stirling is also closed until the November trail openings to allow necessary maintenance and clearing any fallen trees ready for summer!
If you are planning a visit please jump in and use the information available here including live views on the webcams, maps and more.
Need to chat to someone?  Call the Resort Management on (03) 5777 6077.