Mt Stirling Alpine Winter Camp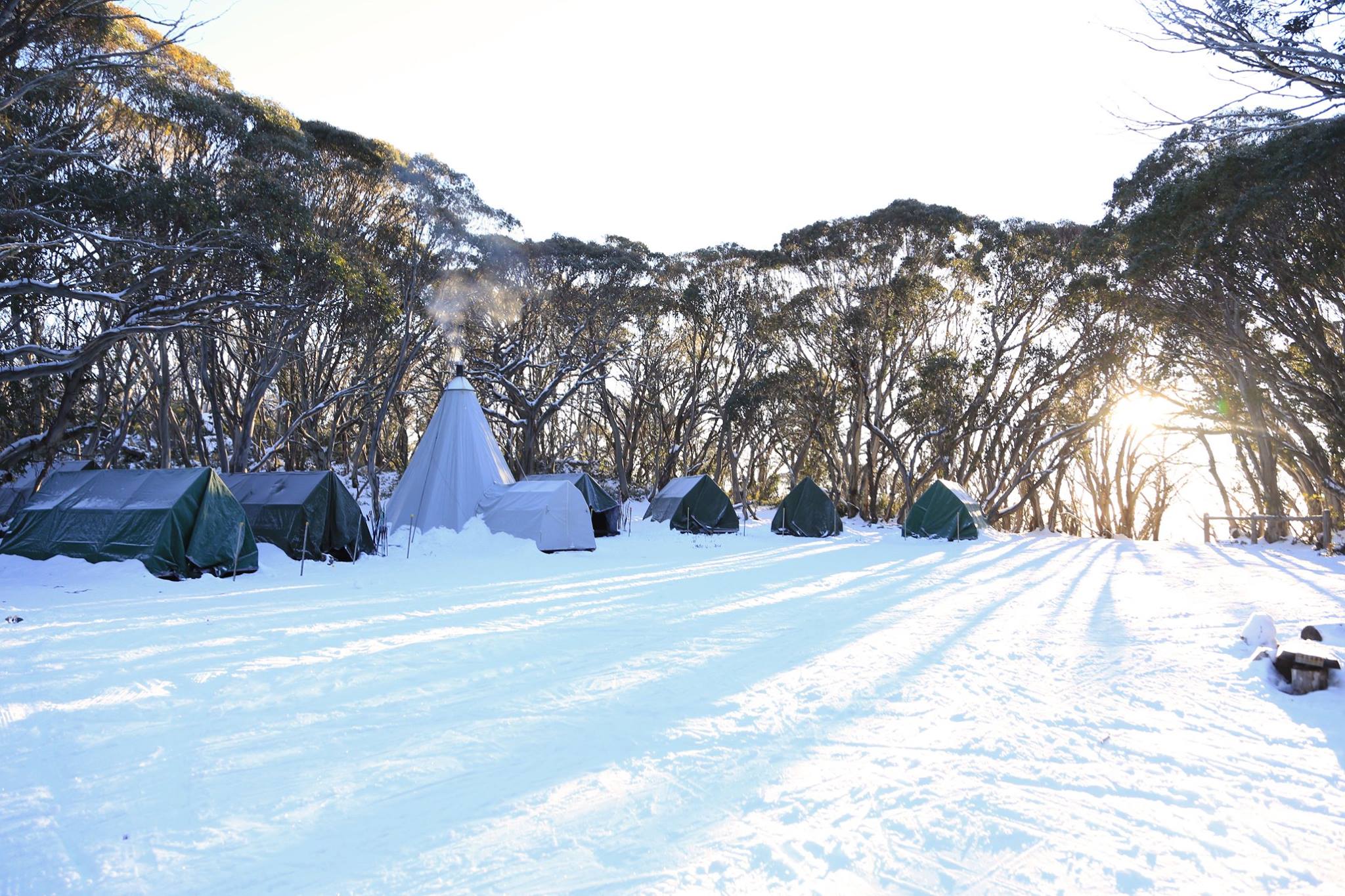 Mt. Stirling's only SKI-IN SKI-OUT ACCOMMODATION above the snow line which can be booked in advance. The Mt. Stirling Alpine Winter Camp is located at an altitude of 1500mts, in the permanent winter snow zone, 3.5 kilometres from Telephone Box Junction. The Camp is located in the Stirling Cross Country Ski Trail, within the snow gum forest on a sheltered clearing known as the Cricket Pitch.
The snow gums provide a unique Australian Alpine scene and safe protective shelter for camping.
Clothing, sleeping bag and food is all that is required. Everything else is provided in the Alpine Camp. If you prefer we can even cater for you from our CAMP MENU, delivered to you fresh on the day you arrive. Simply order at least 4 days in advance.
Your group will arrive to a fully set up camp, dry shelter and a warm fire. If there is skiing anywhere on the mountain, it will be at your front door. PLUS trails around the Cricket Pitch have a gentle grade and a day trip to the summit is only a few kilometres. Even a ski tour to Craig's Hut and return is achievable for those with an intermediate or above ability level. However please plan your trip and fill in the Ski Patrol Intentions Form at TBJ on arrival. Talk to a Ski School or Ski Patrol member if in doubt.  We have an excellent Resort safety record and would like to ensure your safety as best we can.
The Alpine Camp comprises a large central Tepee with a warming potbelly stove for social activities and dining, surrounded by 7 accommodation tents. All tents are on raised platforms with insulated flooring. Accommodation tents are tall enough to stand up in and have a vestibule for equipment storage, together with stretchers, insulated underlay and warm fibre pile blankets for 4 persons in the main living compartment. A 4-burner gas cooktop, washing up facilities and water is provided in the guest shelter and composting toilets are adjacent to the Camp. The camp accommodates up to 28 persons. Tents (4 person) are available for hire. The cost is $175 per tent per night. A two night minimum stay is preferred on weekends. Single night bookings on Saturday only are charged $200 per 4 person tent (standard rates apply for Sat night bookings of 2+ nights).
Now that is about the same cost as hiring all that camping gear, but without the need to carry it. If you are contemplating camping on the mountain consider this alternative, safe, dry, warm, in the snow and great fun.